After being all-new for 2020, the 2021 Tesla Model Y carries over into the new model year with only incremental changes expected. Here's what to expect for the 2021 Model Y when it arrives.
Visually, things for the Model Y won't change, which means it looks like a slightly bloated Model 3. With its raised roofline, curvy silhouette, and petite size, the Model Y enters the competitive compact SUV segment. It takes a less is more approach when it comes to its exterior. Simple lines, modest curves, and few standout elements keep things simple with the Model Y.
On the inside, the current Model Y is minimalistic in every sense of the word. It may be alarming to see that the Model Y doesn't have many gauges, switches, or buttons. Instead, everything is controlled and displayed on a massive 15-inch central touchscreen. The decision not only gives the Model Y a futuristic look, but a highly simplistic one with clean lines and an airy feel. Both five- and seven-passenger layouts are available, with the 2021 model year being the first to be able to accommodate up to seven people.
The high-tech car comes with navigation, Wi-Fi hot spot, Bluetooth, a 15-speaker audio system, and the ability for over the air updates. Furthermore, the Model Y gives you the ability to play video games, browse the internet, and create music when the car is stopped. Apple CarPlay and Android Auto are not available, but there's plenty of available tech with the SUV.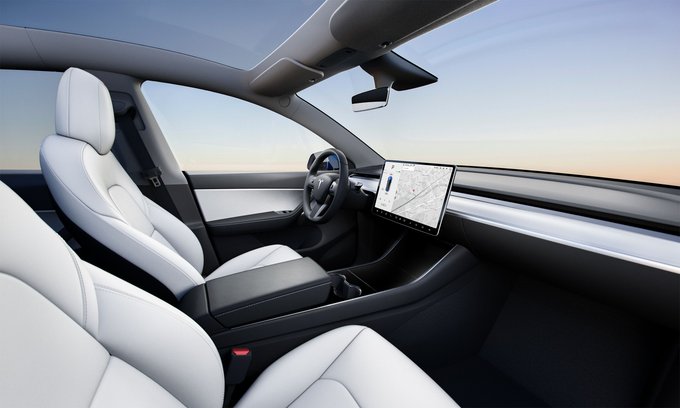 The current Model Y is offered in two variants. We expect the 2021 Model Y to have the same two trims available, which are Long Range and Performance. Tesla doesn't provide information on battery performance and size or electric motor output, which means the only official specification to go off of is range. The Long Range trim can travel up to 316 miles on a single charge, while the Performance trim has a range of 315 miles. These are Tesla's estimates as the EPA hasn't released its official figures yet.
Both trims come with two electric motors bringing standard all-wheel drive. In the Long Range trim, the SUV can get to 60 mph in 4.8 seconds and has a top speed of 135 mph. The Performance trim lowers the zero-to-60 mph time to 3.5 seconds, while top speed is raised to 145 mph. The Performance trim is offered with an available Performance Upgrade that increases top speed to 155 mph, adds performance brakes, brings lowered suspension, comes with 21-inch wheels, and lowers range to 280 miles.
A Standard Range trim is expected to be available in the beginning of 2021 with range in the neighborhood of 230 miles and the availability of both rear- and all-wheel-drive. Top speed is expected to be around 120 mph with a zero-to-60 mph time of less than 6 seconds.
Every Model Y trim comes with adaptive cruise control, automatic emergency braking, blind spot monitoring, and lane keeping assist. Tesla's semi-autonomous Autopilot system is also standard. A Full Self-Driving Capability package is available for an additional $7,000 that allows the Model Y to navigate on its own on the highway, complete automatic lane changes, park itself, stop at stop signs and traffic lights, as well as be summoned from a parking lot.