Tesla likes to do things differently from any other automaker. That makes it difficult to say what's going to happen with the brand's future electric vehicles. The 2023 Tesla Model Y is expected to arrive for the new model year with incremental changes.
We don't expect to see any changes to Model Y's exterior design for 2023. The compact electric SUV will continue to have a modern, aerodynamic design that shares familial cues with the rest of Tesla's EVs. The Model Y wears a smooth front bumper with minimal lines and edges. The diamond-shaped headlights follow the curvature of the front wheel arches, while a slim air intake is located at the bottom of the front fascia. The curvy rear-end design of the Model Y helps the SUV flow through the air, while the flush door handles further improve the Model Y's aerodynamics. At the back, the Model Y features simple taillights and a smooth rear liftgate with an integrated spoiler.
The interior design of the 2023 Model Y will continue to look the same as the current electric SUV that's on sale. The cabin features a modern, streamlined look with a large central touchscreen and nothing else at the front. The Model Y has minimal controls and buttons, as everything is controlled through the touchscreen. Tesla's interior design incorporates simple lines for a modern look. An all-glass roof creates an airy cabin that makes the Model Y feel spacious.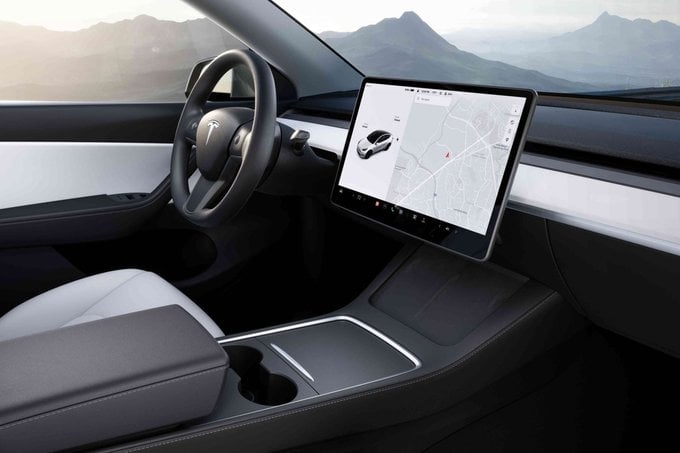 Tesla isn't expected to make any large changes to the Model Y's tech features for 2023. The electric SUV currently comes with a 15-inch touchscreen, navigation, a Wi-Fi hotspot, 14 audio speakers, Bluetooth, four USB ports, and a wireless charging pad. One thing we could see in 2023 is an updated touchscreen that can swivel toward the driver or passenger. Beyond that, the Model Y should come with the same tech as the current SUV.
The current Model Y is available with two powertrains. The base Long Range trim comes with two electric motors, all-wheel drive, and a 75-kWh battery pack. The SUV has an estimated 447 horsepower and can travel up to 330 miles. The Performance trim also comes with two electric motors but has an estimated 580 hp and a range of 303 miles. We could see Tesla update the Model Y's performance and range for 2023.
Every Model Y comes with Tesla's advanced Autopilot system and safety features that include pedestrian detection, forward collision warning, adaptive cruise control, lane departure warning, lane keeping assist, blind spot monitoring, rear cross-traffic alert, parking sensors, traffic sign recognition, and automatic high-beam assist. Tesla's Enhanced Autopilot system is available, bringing Navigate on Autopilot, automatic lane change, automatic park assist, summon, and smart summon. Full Self-Driving Capability is also optional.