The already immensely popular Toyota Highlander Hybrid is getting yet another reason for consumers to consider taking the plunge and purchasing it. For the 2023 model year, Toyota is adding new and improved amenities across the lineup, making value a priority.
What's available for the Highlander Hybrid will depend on trim, but there are several points of note for the 2023 model. For the exterior, there are a plethora of new exterior colors, including Cypress, Cement, Wind Chill, and Midnight Black Metallic. The only other real changes to the outside of the car are the power-folding side mirrors to improve parking, a hands-free power liftgate, and rain-sensing windshield wipers.
On the inside, the Highlander Hybrid has a lot to offer. First, there are 16 cubic feet of cargo space behind the third row, which expands to 48.4 cu. ft. with the seats in a 60/40 split, and finally can explode to 84.3 cu. ft. with all rear seats folded. The Highlander Hybrid has seating for as many as eight passengers, depending on whether you choose a bench seat or captain's chairs for the second row. Upholstery for the Highlander Hybrid depends on the trim but has a choice of woven cloth in Graphite or Black with trim and stitching colors that include Harvest Beige, Bronze, Glazed Caramel, Leather, and Black. The Bronze Edition, which debuted last year on the current model, has specialized embroidered cargo mats with bronze stitching to complete a designer look.
The Hybrid SUV was built to be a quiet ride where people can hear each other talk, proven by the sound-dampening materials used in its production, acoustic glass in the windshield, and a Driver Easy Speak PA system built-in to carry the driver's voice to the rear seats. Along the lines of tech improvements, this SUV has an 11-speaker audio system, 5 USB ports throughout the cabin for smartphone connectivity, LED ambient lighting, wireless Apple CarPlay and Android Auto, and a Wi-Fi subscription with Apple and Amazon Music. The screens that act as the hub are also available for improvement, as consumers can replace the 7-inch and 8-inch instrument and gauge cluster screens with two 12.3-inch screens depending on trim level.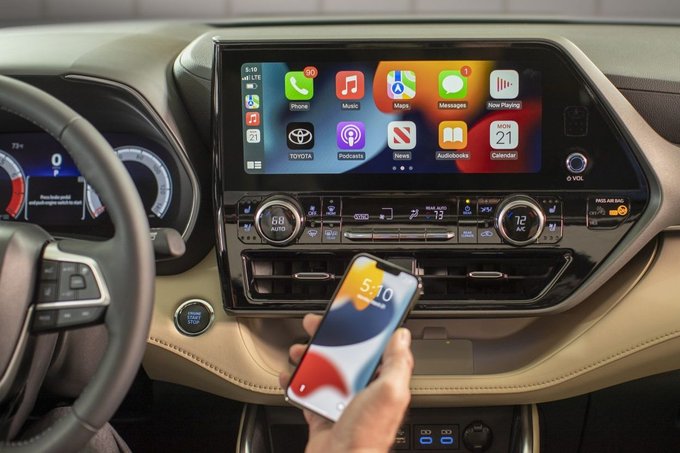 The Hybrid's powertrain, offered in both FWD and AWD, is a 2.5-liter four-cylinder engine paired with two electric motor-generators. This delivers an output of 243 horsepower, 36 MPG combined, and 3,500 pounds of towing capacity. Both the motor-generators are used to charge the hybrid battery and assist the engine so that it runs efficiently without high revs. The Hybrid has four driving modes: Normal, Eco, Sport, and EV. Normal is for typical everyday driving, Eco is for maximum fuel efficiency, Sport quickens the throttle response, and EV enables electric-only driving for short-distance low-speed travel. The Highlander Hybrid has both regenerative braking to bring additional energy to the battery and Predictive Efficient Drive that analyzes driving habits to optimize battery usage and charging.
Toyota has made sure to pack this popular SUV with plenty of safety features such as lane departure alert with steering assist, road sign assist, eight airbags, automatic high beams, bird's eye view camera with perimeter scan, blind-spot monitoring, rear cross-traffic alert, parking assist, pedestrian detection, radar cruise control, and much more. The Highlander has received the TOP SAFETY PICK + award more than once in the past and therefore has a reputation for safety. This vehicle also has voice-activated commands to help with things like navigation, audio control, and changing the temperature in the cabin.
Consumers can also stay connected to their vehicle with the Toyota App that gives them Remote Connect service on certain trims. This allows drivers to activate headlights, remote start the car, and lock and unlock the doors. Over-the-Air updates make sure that consumers always have the latest in software updates for tech and applicable safety features. The 2023 Highlander Hybrid also comes with ToyotaCare which covers 8 years or 100,000 miles of hybrid-related repairs. The battery is also covered for up to 10 years or 150,000 miles.