After arriving as a redesigned model last year, the 2022 Toyota Mirai is expected to be a carryover model. The Mirai competes in the almost non-existent segment of fuel-cell vehicles but stands out because of its upscale design and eco-friendly powertrain.
When the Toyota Mirai arrived as an all-new vehicle last year, it featured a handsome exterior design that looked more along the lines of something we've come to expect from Lexus. As a carryover model, the 2022 Mirai will share the same exterior design as the current model. The current Mirai wears a smooth front end with sharp headlights and a massive front grille. Rectangular taillights that are connected by a thin strip and a prominent black bumper are standout elements at the back.
On the inside, the current Toyota Mirai doubles down on the luxury quotient. The dashboard has a sweeping design that splits the passenger and the driver, but also places the gear shifter close to the driver. The large infotainment screen is connected to the instrument cluster, while the HVAC system is controlled through two rows of small buttons on the center console. The 2022 Toyota Mirai will retain the same design as the current model that's on sale.
The carryover 2022 Mirai will come with same features as the current model. In addition to a 12.3-inch touchscreen, the upcoming Mirai will come with Bluetooth, Apple CarPlay, Android Auto, Amazon Alexa, and satellite radio as standard. The Mirai will also come with a JBL audio system and a wireless smartphone charger as standard equipment.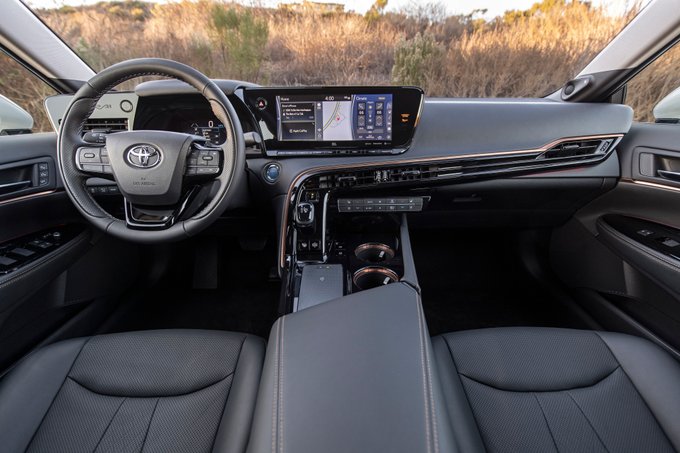 The current Toyota Mirai features a high-tech fuel-cell powertrain that consists of an electric motor, a fuel-cell stack, and a lithium-ion battery pack. Combined output is rated at 182 horsepower and 221 pound-feet of torque. The Mirai is rated to get up to 402 miles of range. Rear-wheel drive and a single-speed transmission are standard for the sedan. We expect the current Mirai's powertrain to remain the same for the 2022 model year.
Toyota equips the current Mirai with automatic emergency braking, forward collision warning, pedestrian detection blind-spot monitoring, adaptive cruise control, rear cross-traffic alert, lane departure warning, and lane-keeping assist.