Toyota Mirai
The 2021 Toyota Mirai is all-new and marks the second generation of the fuel-cell electric vehicle. It ditches the awkward Prius-inspired styling for an undoubtedly more handsome exterior and a more contemporary and luxurious cockpit. Its hydrogen fuel cell powertrain also receives significant updates for better packaging and efficiency while providing more power and greater range than before.
2021 - 2021 Toyota Mirai
The redesigned Toyota Mirai sedan is now available in two trims. The XLE is $50,455 and the Limited is $66,955. Read more »
2017 - 2020 Toyota Mirai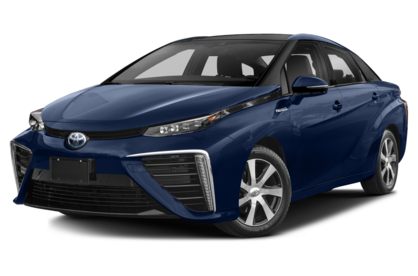 The Toyota Mirai is powered by a 114-kilowatt (153 horsepower) fuel cell located under the front seats. Power is sent to an electric motor, which turns the front wheels. Some energy is sent to the 1.6-kilowatt lithium-ion battery pack. Read more »
Need a Car Loan?
We can help you get financing, no matter your credit situation.
It's FREE, fast and simple!
Get Started
The Car Connection Awards and Rankings
The Car Connection Top Rankings
Find more information on Toyota vehicles