The Toyota Prius arrived as a fully-redesigned model in 2016. The most iconic hybrid of all time received a futuristic, science fiction design to stand out in the growing segment. Entering its seventh model year on sale, we expect the 2022 Toyota Prius to be a carryover model.
When the Toyota Prius arrived at dealers in 2016, the hybrid ditched the old, safe design for something far more exciting. The Prius' grille-less front end, sharp headlights, and angular body makes the hybrid looks like a spaceship with wheels. The rear end is even more stirring, with one of the more unique taillight designs on the market and a split liftgate. The carryover 2022 Toyota Prius should retain the same design as the current model.
The current Prius retains the same futuristic design as the exterior. Unlike a traditional dashboard that puts gauges and information right in front of the driver, the Prius puts everything in the center for a unique look. The hybrid's dash-mounted shifter is another unique element that helps the cabin feels spacious. We expect the 2022 Toyota Prius to have the same interior design as the current model.
Currently, the Prius comes with a 7-inch touchscreen, Android Auto, Apple CarPlay, Wi-Fi hot spot, three USB ports, six audio speakers, Amazon Alexa, and Bluetooth as standard. Higher trim levels come with an 11.6-inch touchscreen, a JBL audio system, navigation, and satellite radio. These features should carry over unchanged for the 2022 model year.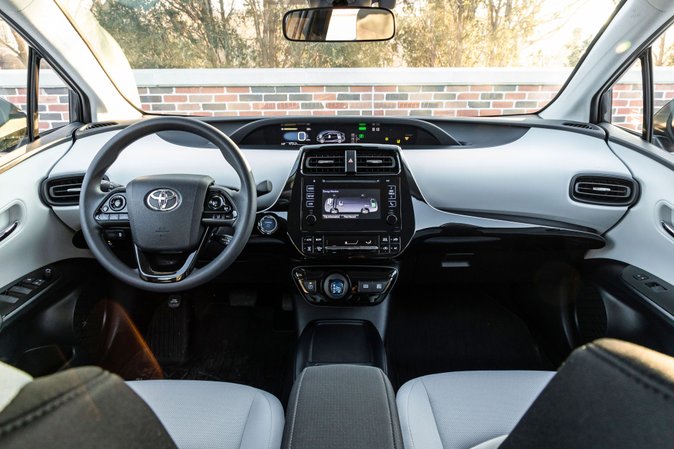 The 2022 Prius is expected to have the same powertrain as the current model. That means power will come from a 1.8-liter four-cylinder engine, an electric motor, and a 1.3-kWh battery pack. Combined output is rated at 121 horsepower. The Prius comes with a continuously variable transmission (CVT). Front-wheel drive is standard, while all-wheel drive is available.
The current Prius comes with adaptive cruise control, forward collision warning, lane departure warning, automatic emergency braking, traffic-sign recognition, pedestrian detection, and automatic high-beam assist. Available features include a head-up display, rear cross traffic alert, parking sensors, blind spot monitoring, and active park assist. Safety features should remain the same for the 2022 Prius.