The full-size Toyota Sequoia hasn't been through a complete redesign since 2009, but it has seen a few visual tweaks to keep pace with its slow-changing class. With it being such a niche vehicle, we expect the 2022 Sequoia to be a carryover vehicle.
The Toyota Sequoia's last big refresh came in 2018 when it received a new front end that included updated headlights, a refreshed grille, and a new bumper. This facelift was enough to keep this large SUV soldiering on for another handful of years. We expect the 2022 Sequoia o continue marching to the same design beat.
While Toyota did a good job massaging the Sequoia's exterior, its interior still dated. Sure, it's a significant upgrade from the circular-gauged mess from 2008 through 2017, but it still lacks the pizzaz of today's models. It feels an awful lot like a warmed-over pickup. That said, it does well at staying as modern as possible with a standard 7-inch touchscreen that features Android Auto and Apple CarPlay. We expect this aging interior to remain the same in the 2022 Sequoia.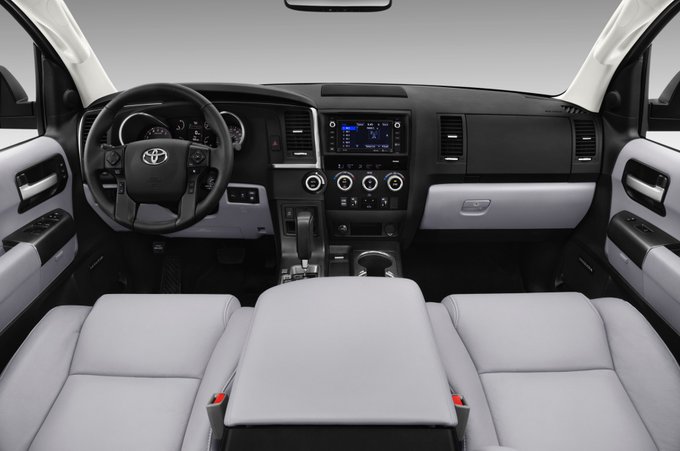 Under its hood, the current Sequoia boasts a 5.7-liter V8 that delivers 381 horsepower and 401 pound-feet of torque. This power passes through a six-speed automatic transmission and out to the rear wheels or through a four-wheel-drive system. While old, this setup is still competent, and we expect it to remain the same in the 2022 Sequoia.
Despite its age, the current Sequoia comes well-equipped with standard safety gear, including automatic emergency braking with pedestrian detection, lane-departure warning, blind-spot monitor, rear cross-traffic alert, adaptive cruise control, and high-beam assist. Crash-test scores aren't available, as the IIHS and NHTSA haven't performed them – and likely never will.