The Toyota Supra arrived in 2020 as an all-new model. Built in partnership with BMW, the Supra gave Toyota a high-performance sports car while resurrecting an iconic name. With Toyota giving the Supra a few updates last year, we expect the 2022 Toyota Supra to be a carryover model.
When the Supra was introduced, it arrived with the same overall design as the radical FT-1 Concept. The Supra's short wheelbase, long hood, and stubby rear end make it look like an exotic two-seater. Unlike a lot of other cars on the market, the Supra has a bubbled hood and a pointy nose, giving it a unique look. We expect the 2022 Toyota Supra to share the same overall design as the current model.
On the inside, the current Supra looks and feels similar to one of BMW's products. The infotainment screen, buttons, dials, gear shifter, and layout of the center console are all reminiscent of a BMW. That's not a bad thing, as the Supra's cabin is easy to use and handsome. The current sports car is also snug on the inside for two people, while offering a relatively large cargo area thanks to a hatchback-like trunk. As a carryover model, the 2022 Supra is expected to have the same interior as the current vehicle.
On top of the standard 8.8-inch touchscreen, we expect the 2022 Supra to come with four audio speakers, a USB port, Bluetooth, and satellite radio as standard. Available features will include navigation, wireless Apple CarPlay, a 12-speaker JBL audio system, and a wireless smartphone charging pad.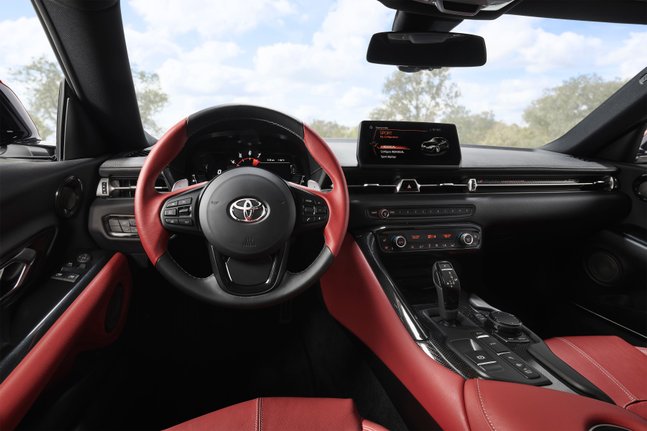 Toyota is expected to offer two engines with the 2022 Supra. The base engine is a turbocharged 2.0-liter four-cylinder that makes 255 horsepower. A more powerful turbocharged 3.0-liter inline-six engine is available and makes 382 hp. Both engines are paired with an eight-speed automatic transmission. In typical sports car fashion, rear-wheel drive is standard.
The current Supra comes with forward collision warning, automatic emergency braking, pedestrian detection, lane keeping assist, lane departure warning, and automatic high-beam assist as standard. Parking sensors, adaptive cruise control, a head-up display, blind spot monitoring, and rear cross traffic alert are optional. We expect these safety features to remain the same for the 2022 Supra.