Toyota Tacoma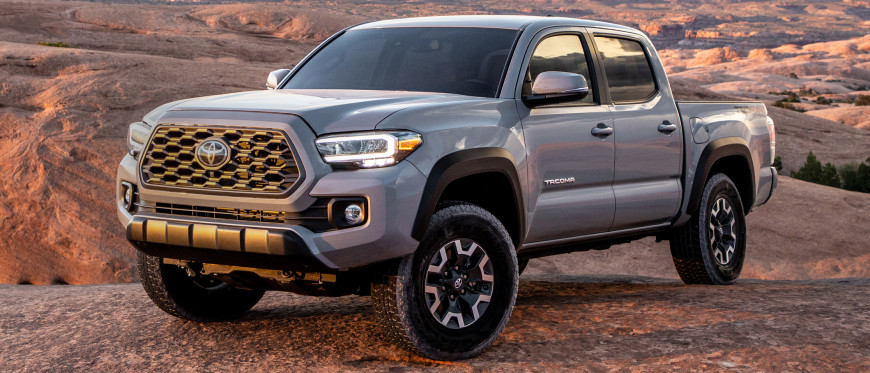 What's new with the 2021 Toyota Tacoma? Nothing, not that it really needed any freshening up. Despite being one of the most dated options in the midsize truck market, it remains the best-selling midsize truck year in and year out.
2016 - 2021 Toyota Tacoma
2005 - 2015 Toyota Tacoma
Toyota has introduced an all-new Tacoma for 2005. It's new from the ground up and it's a winner. The 2005 Toyota Tacoma improves on all the attributes its loyal owners have cherished in past models, while increasing interior roominess and refinement. Nearly the entire class of compact pickups is new. Nissan, Dodge, Chevrolet and GMC... Read more »
1995 - 2004 Toyota Tacoma
The Tacoma comes in various configurations with either a 4-cylinder or V-6 engine. The engines are noted for their power and towing capacity - the vehicle can tow up to 5,000 pounds. In 1998, the Tacoma received a minor redesign to its front end and frame. In 2001, Double Cab and S-Runner trims were offered.
Read more »
Need a Car Loan?
We can help you get financing, no matter your credit situation.
It's FREE, fast and simple!
Get Started
The Car Connection Awards and Rankings
The Car Connection Top Rankings
Find more information on Toyota vehicles
Insider Information
We have information you must know before you buy the Tacoma. We want to send it to you, along with other pricing insights.
I agree to receive emails from CarsDirect. I understand that I can unsubscribe at any time.
We will not spam you, and will never sell your email. Privacy Policy.
Thank you. You are now subscribed to our Pricing Insider updates.