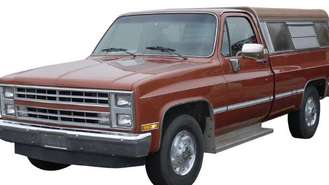 Trucks are built to be tough and reliable, so buying used makes financial sense for many drivers. A truck's work capability doesn't really decline with age, and yet you avoid the steep depreciation of the first few years. What's more, there are now plenty of certified used trucks with factory warranties available at dealers.
Once you find a truck that could work for you, it's time for a little research. Here are the top four issues you should investigate before making the deal:
City or highway miles
The issue here isn't necessarily the number of miles on the truck, but where they were accumulated. Highway driving is easier on a truck than driving in stop-and-go traffic. Simply ask the owner where the truck has spent most of its running life. The more highway miles there are on the odometer, the better. If you're buying from a dealer, you won't have access to this information, but it's a good bet that a newer truck with high miles and a decent body was driven primarily on the highway.
Heavy duty
Has the truck had a rough life? Towing, hauling, and off-roading take their toll on a truck's longevity. Obviously, you want a truck that's been used as gently as possible. Check the load floor and paint around the bed for scratches and other signs of heavy use.
Vehicle history
Several online services can provide you with a comprehensive report of any issues that can impair the truck's value or operability. Trucks with blemish-free records have an excellent chance of remaining on the road for years to come. A vehicle history report will alert you to accidents, water and frame damage, title issues, odometer problems, and more.
Your needs
Think about how you're going to use the truck and decide whether it's really a good fit for your needs. If you're going to use it for personal transportation, a big V8 or diesel engine is probably a waste of money. On the other hand, they're essential if you plan on hauling heavy loads or towing a trailer. Four-wheel drive will pull you through mud and snow, but how often will you really use it? However you intend to use your truck, make sure it's right for the task.