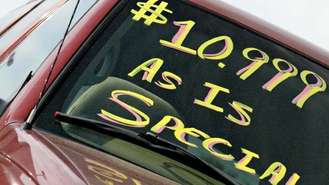 There are a number of advantages to buying second hand cars, and there are also disadvantages. When making the decision to buy a second hand car is important to do your research and carefully consider both the pluses and minuses.
Advantages
Depreciation.A new car starts to lose value as soon as you drive it off the lot. Unless you are dealing in very high end collector cars, every car you ever purchase will lose value pretty quickly. Some statistics suggest that by the fifth year of ownership your vehicle has lost 65 percent of its value. Certain cars depreciate even faster. When you buy a second hand car, quite a bit of that depreciation has already taken place so you are buying an asset. While it will still depreciate, it will lose value at a slower rate
Upfront costs.A new car is generally more expensive then a used one. You will be spending less of your money upfront and may also be able to pay cash to avoid financing the vehicle
Cheaper insurance. Used cars are usually cheaper to insure. You will also often save money on registration and tags. However, if you live in a state that requires an emissions test you will probably have to get one for a used car. This expense would be avoided with a new car
Disadvantages
Buying a problem.Whenever you buy a used car you are taking a risk that you may be buying someone else's problem. While it is not unheard of for new cars to have a large number of breakdowns or problems, you can be assured that the dealer or manufacturer will make every effort to make you happy. If you encounter problems with a used car you are often on your own.
No warranty.A brand new car will come with a pretty extensive warranty. A used car will not offer the same protection. Depending on how old the car is there may be an original factory warranty remaining. If that is not the case it is often a good idea to purchase an extended warranty. If possible, shop for a certified pre-owned car. These cars are checked out extensively by the dealer and usually come with some type of warranty.
Choice. While their selection of used cars is huge you may not get the exact car you are looking for. When buying new, you can choose all the options and colors
Tips for Buying Second Hand Cars
When buying a second hand car, you have to be careful and vigilant.
You don't have to be a mechanic to find damage done to the car. Make sure that you check the car inside, outside and below
Start with the exterior and check it for possible problems like ripped lines, gaps in the car panels, rusty spots, corrosion, accidents and trailer hitches
Check the engine for oil or coolant leaks. Check the engine for dirt. Is the oil level low and is the dipstick too dark? Make sure that the engine shows that proper maintenance work has been done regularly. There should be no smoke, warning lights, steam or sounds when you run the engine
Check the transmission for problems like time between shifting the gears. Is there any trouble between shifting like a shudder or shiver?
Check the manual transmission to make sure that the car has no leaks, noises, trouble while changing gears, while moving the clutch etc.
Inquire about the reason for the sale. Most private owners will sell the car when they have a second, better model or when the car has been in an accident. This means that the car might be pretty good or really bad. As a private owner, you are buying the car "as-is". That means you cannot object if there are problems with the car later on
Check the car for the Vehicle Identification Number to find out car's history like failed emissions tests, rolled back odometers, flooding, number of owners of the car and more
If you like the car, bring an independent car mechanic with you to check out the car on a second day. If required, you can pay a small amount to the owner to show that you are interested in the car
If the mechanic is satisfied with the car, take the car for a test drive. Make sure that the engine starts properly and that there are no vibrations and sounds. Apply the brakes and then start and stop the car. Check the speedometer and the odometer to make sure that all is working properly
Second hand car dealers are more likely to sell you good cars but they might try to cheat you in the form of processing fees and warranties