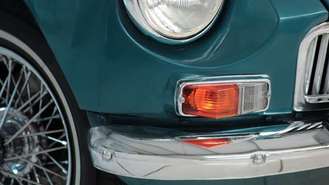 The top 10 used sports cars can give an owner performance, power, and reliability at a great price. Here is a look at some of the best picks when it comes to sports cars from recent years. These are easy to find used and offer a great all-around package.
Start your search for a used sports car >>
Mazda RX-8. Great power, great price.
Honda S2000. Great performance and reliability.
Ford Mustang. Easy to find, good price.
Honda Civic SI. Great reliability, fuel economy.
Subaru WRX. Outstanding performance, all-wheel drive.
Mitsubishi Lancer. Outstanding performance, all-wheel drive.
BMW 3 Series. Legendary design, good performer.
Ford Focus SVT. Surprising performer, great fuel economy.
Nissan 350Z. Head-turner, excellent performer.
Mazda 3. Easy to find, cheap, strong performance.
These are all cars that offer top-of-the-line performance and can be found at a great price. Finding a great deal on a used sports car can be hard. These cars are in high demand, and performance vehicles tend to hold their value.
When shopping for a sports car, try thinking outside the box. Test drive a couple cars that aren't on your "first choice" list. You may find a great match in a car that you wouldn't expect to like, or hadn't thought much about. Many people who would normally lean towards a more traditional sports car like a Ford Mustang or BMW 3 series are very impressed with newer platforms like the WRX or the Focus SVT once they give them a shot.
What to Look for in a Used Sports Car
When shopping for used sports cars, there are a number of things to keep in mind that will help you to get the best deal for your money. You'll want to research information specific to the makes and models that interest you, plus you'll want all the details on any particular car that you decide you're interested in. Most of this information is quite easy to find, and being aware of certain key factors can keep you from regretting your decision to buy.
Start your search for a used sports car >>
Research and Comparison
When looking for used sports cars for sale, you'll want to have a general idea of which models appeal to you. In order to help make this decision a little easier for you, there are several websites that provide consumer reviews and model specific information such as specifications, values, recall notices and customer satisfaction. A quick look through your favorite search engine's results could give you articles, videos and resources for help with pinpointing exactly which vehicle would fit best with your lifestyle.
Kelley Blue Book
Once you've narrowed down your favorite selection of used sports cars, have a look at the Kelley Blue Book for vehicle values. Not only can you get a general idea of what prices to expect when shopping, you can verify the cost of a specific sports car that you have found for sale. Enter the year, make and model of any type of vehicle to get suggested values for retail sales from a dealership, trade-in value and an amount for what you could expect to pay from a private seller. Suggested Blue Book values are based upon criteria like vehicle condition and upgrade options such as CD player, power windows, air conditioning, transmission type and alloy wheels.
Auto History
In order to make a final decision on which of the used sports cars you should buy, you might benefit greatly from obtaining an auto history report. Sites like CARFAX offer the opportunity to pay a small fee to get records and history on a particular vehicle. Simply enter the VIN from any vehicle and you'll be provided with records regarding past service, past owners, any title problems such as salvage or flood, and reports of any severe accidents that may have resulted in frame or other damage. It's also a good idea to make sure you find out the mileage or total miles driven on the car, and have a certified mechanic check it out as well.
Find a Car
A great place to find listings for used sports cars available in your area is by searching here on CarsDirect. We offer daily updated listings, searchable by zip code. You'll also find many articles that offer general information about buying and maintaining your vehicle, plus vehicle specific information on any model of your choice. Links are provided for information on used cars by region, recall information and websites that offer financing options for people with any type of credit.
Start your search for a used sports car >>
Related Questions and Answers
Which Sports Car Models Have the Cheapest Parts?
If you are interested in buying a sports car, ensure that you know how much the sports car parts will cost. A good, cheap model will save you a huge amount in the form of maintenance, insurance and spare part replacements while still giving you the pleasure of being a sports car owner. Here are a few models that have really low maintenance and as well as low spare part costs. Try the Mazda MX-5 Miata SV, the Acura Integra, the Nissan Sentra SE-R, or the Subaru Imprezza. Generally, the cheaper the sports car, the more cheaper and easily available the spare parts.
How Old Do Sports Cars Have to Be to Be Considered Vintage?
Different clubs have different standards by which they consider sports car of vintage quality. A few of the most important criteria are regarding age, like most cars made prior to 1948 are considered to be vintage models. But there are clubs for cars that are made in the 50s, 60s and 70s too. It's a good idea to find the VIN or the vehicle identification number of the car and then check it against the manufacturing date. Check with the Antique Automobile Club of America to ensure your car falls in the right category. You can also check with the Classic Car Club of America to find out the requirements of classifying your car as antique, vintage, and classic.
Is High End Torque a Common Trend in Performance with Japanese Sport Cars?
Japanese sport cars models are made in a special varieties called Tuner cars and Muscle cars. These cars are high performance models of existing cars. To produce higher speed, these models are tweaked to produce low to middle range revolutions per minute with a high torque or low torque. The manufacturers make light weight chassis to produce the high speed that is required with these models. But a basic difference that exists between tuner cars and muscle cars is that tuner cars have lower torque, while muscle cars have massively higher torques. Both are performance cars though.