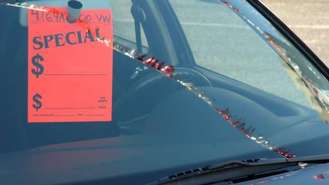 Most insurance companies won't sell a salvaged vehicle directly to a consumer. More often than not, most insurance companies offer salvage vehicles for sale at local auctions or sell them to local salvage yards. In fact, insurance companies usually don't keep salvage vehicles around very long before they are disposed of. If you're looking to buy a salvage vehicle through an insurance company, here are some steps that you should take.
Visit the Insurance Company
While the insurance company will probably not sell you a salvaged vehicle, they may tell you where the vehicle has been sent for auction or the salvage dealer with whom the vehicle was placed. Therefore, you should inquire with the insurance company about any salvage vehicles that they have and where they are located.
Auto Insurance Tips for Salvaged Vehicles >>
Visit the Auction Site or Salvage Dealer
Depending on where the insurance companies sends their salvage vehicles, you need to either attend a local auction and bid on the vehicle or visit the salvage yard and make an offer to purchase it. If the vehicle was sent to an auction, you may not be able to attend, as it may be for dealers only. If this is the case, your only option would be to search for insurance companies that send their vehicles to salvage yards.
Buy the Vehicle
When you find a salvage vehicle that you want, make an offer for the vehicle that takes into account that the vehicle will probably need many costly repairs. Make sure that the total amount of the vehicle (including repairs) will make the purchase worth the amount of money invested.