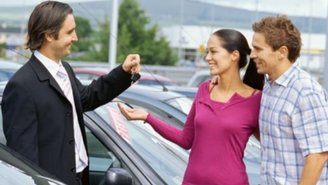 Whether you are buying a used car from a private seller or a vehicle from a local dealer you can find some great deals on Craigslist. Smartphones, iPads, and other electronic devices have made searching the internet simple and fun. Often people begin their search for a car online instead of wasting gas driving around or even browsing the newspaper. If you are in the market for a new or used vehicle there are some specific questions to ask when buying a car on Craigslist.
Let's Make a Deal
The first question you should ask either a private seller or dealership about a car on Craigslist is the year, how many miles are on the car, and if it is an automatic or standard transmission. When you are looking through Craigslist postings you can narrow your search using this criteria also. It is much easier to find what you are looking for if you don't have to sift through 50 cars with a standard transmission if you are looking for an automatic.
The second question you should ask, especially if the price seems too good to be true, is what is wrong with the car. If you are working with a private seller or a dealership ask to see a Carfax report. Find out how many owners have used the car. Ask if the seller would mind if you brought your mechanic by to check out the vehicle. Although you can find some great deals on Craigslist – you need to make sure you are not getting ripped off.
A third question to ask is if the price is negotiable. People selling vehicles on Craigslist are often looking for some quick cash, a better price than a trade-in, or getting rid of a vehicle that is no longer needed or has too many problems. Similar to a yard sale or flea market – most people list a higher price on the car than what they are willing to take for the vehicle. Do your research ahead of time and find out the real value. Print out the information and bring it with you when looking at the car. Also be nice. People are more willing to work with someone who is genuine and friendly than someone with a bad attitude.
Buying a car on Craigslist works for hundreds of people every day. Just remember to keep safety as a top priority, ask all of the important questions, do not meet with a seller by yourself or in a deserted location, and enjoy the great deal you got on your new car.