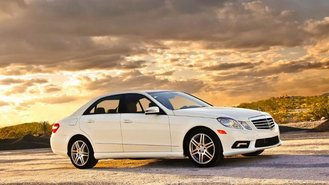 When you reach a certain age, owning a luxury car becomes a desirable option. Once the kids are past the sippy-cup stage and car pools are a thing of the past, consider searching for reliable used luxury cars. You can enjoy your new status without busting the budget with high car payments.
Luxury at its Finest
The Mercedes Benz E-Class is considered one of the most reliable vehicles on the market. New, these models can reach over $100,000, but you can find a newer used model for less than half the price. Memory seats, sunroof, and back up camera come standard in most models. If you are looking for a luxury ride at an economy price check out the Mercedes Benz E-Class.
If traveling long distances is part of your everyday life the Lexus LS is the perfect reliable luxury car to make your days more interesting. You can find a Lexus that's only a couple years old for around $50,000 with low mileage. The technology, climate control, and parking assist will keep you enjoying the Lexus LS for years.
While you might not assume the Acura TSX belongs in the class of luxury sedans, the spacious cabin, up-to-date technology, and expansive features make it a perfect entry into the world of opulence. Not only does the Acura TSX provide excellent fuel economy, it also comes in a variety of colors and five different trim styles. Leather seats, cruise control, and interior air filtration put the Acura TSX at the top for reliability and luxury.
The Jaguar XF offers distinctive style and a sporty ride in addition to reliability and luxury. The eight-speed automatic transmission and standard start stop functions provide fuel economy even in a luxury sedan. The distinctive design of the Jaguar XF also offers keyless ignition, navigation system, and heated steering wheel and windshield in the cold weather option.
Cutting edge safety features make the Volvo S60 an excellent choice for a luxury sedan. If you are often driving in the city with excessive pedestrian traffic you can find the option of a City Safe feature that senses pedestrians and stops automatically. In addition the turbocharged engine will give you enough get up and go to make driving the Volvo S60 luxurious and exciting.