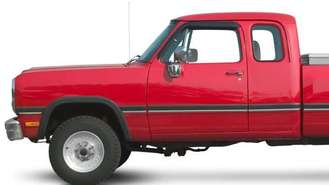 A reliable used truck pricing guide will give you a good idea of how much you should expect to pay for a particular make and model truck. Finding accurate used truck pricing guides is easy with the help of the Internet.
Visit Pricing Guide Websites
Visit popular car and truck pricing guide websites like the Kelley Blue Book and the Edmunds guide. These two websites are by far the most popular pricing guides for all types of vehicles. You can use them to find average retail prices, average private party selling prices and average trade-in values for any type of used pickup truck available on the market. Both websites use proprietary methods for determining used truck prices. Get the pricing data from both websites and average the two to get a more accurate idea of how much a particular use truck may cost you.
Find Wholesale Truck Prices
Although Kelley Blue Book and Edmunds are the two most popular pricing guide websites, they are certainly not the only ones. You should also visit the website of VMR Auto Guides. VMR Auto Guides, publishes a very popular printed pricing guide for used car and truck prices that is sold in many national chain bookstores. You can get their pricing data for used cars and trucks online as well. In addition to very accurate average retail pricing, the VMR auto guides website also provides reliable wholesale prices for used trucks as well. This information will give you a good idea of the average prices that used car dealerships actually pay for used trucks. By knowing how much a dealer possibly paid for a used truck you may be able to negotiate a lower selling price when it's time to make a deal.
View Prices on CarsDirect
Although pricing guide websites for used trucks are definitely helpful, you should always visit CarsDirect to find out what used trucks are really selling for. CarsDirect has hundreds of thousands of used trucks listed from all around the country. When you search for a particular make and model pickup truck, the CarsDirect will show you high and low selling prices for that type of pickup. You can use this information to gauge how much a particular type of pickup truck is actually selling for and how much you should expect to pay when you finally decide to purchase a truck.
8 Important Questions to Ask When Looking for Fair Used Truck Pricing
Used trucks can cost more than they're worth in upkeep depending to their unique conditions. Here are some great questions to help you get value out of a used truck deal.
Do you have the service records? Getting records of past service on the truck from the seller is a great way to evaluate your used truck deal. It's a fair question to ask, and many sellers keep the service records for a resale situation.
Can I see the title? Taking a look at the vehicle title will show you if a truck has been labeled a "salvage vehicle" after an accident, flood or other damage situation. It will also tell you more about the past ownership of the vehicle.
Do you have a Carfax report? Carfax and similar reports will help you see even more about the history of the vehicle. Use your research to determine if the truck's price is really fair.
Have you priced according to Kelley Blue Book trucks? Sale prices on used cars and trucks are often tied to a Kelley Blue Book value. If the price offered to you by a certified dealer or other seller is higher than Kelley Blue Book, you probably want to know why.
Has this truck been inspected? This is a major issue for used trucks. Many details can cause a state to reject the vehicle in the annual safety inspection that is necessary in most states. Other follow-up questions include asking how much it cost the seller to inspect the vehicle in previous years.
Is this truck leaking or burning oil? You can ask, and sellers may or may not answer. The best strategy is a visual inspection, where the buyer may be able to catch oil leaks that can lead to a lot of costs down the road.
Have you discounted this truck for interior/exterior conditions? Another question you can ask is related to things you see during a visual inspection of the vehicle. Large stains or rips in the interior or sizable scrapes or dents on the outside may be worth a price deduction.
Have you checked this vehicle for VIN duplication? This question is related to the vehicle history. It may be fairly uncommon for buyers to ask, but these days, vehicle owners really need to think about VIN duplication as a potential problem. What's happening is this: auto thieves or scam artists are mislabeling VINs (vehicle identification numbers), especially on larger vehicles like trucks. This is important to a buyer, because if the local police find than duplication, they will take away the vehicle, regardless of whether the buyer knew about the problem or not. A quick check of the related documents can usually reveal VIN duplication, and a comprehensive auto history report can prove you have the right vehicle.
Obtaining the Best Price for Your Truck
When selling or trading a used truck, the goal is to get as much as possible for it. There are a few things an owner can do before selling a truck that will help it to fetch a better price.
Clean the Truck
The first and foremost one is to clean it thoroughly. When washing a truck be sure to get the areas often overlooked, including the door jambs, engine compartment and underbody. Most full service car washes offer and under body wash, and the more the truck was used off road, the more it is going to be needed.
Check the Tires
Another area to look at, especially if the vehicle is going to be sold and not traded, is the tires. Worn out or non-matching tires can lower the value of a used truck considerably.
Keep Your Records
Another way to ensure a good resale value of a truck is to keep good maintenance records. The best way to keep track of this is to purchase a small notebook and folder. In the notebook write the date, mileage and service performed, and keep all receipts in the folder.