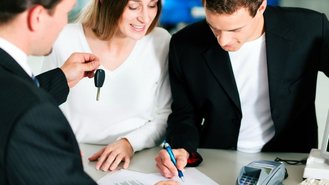 Buying a used car is a great way to get a good deal and a vehicle you love. When shopping for a car you need to know how to negotiate used car prices and get the best bang for your buck. Before buying you should research the safety of vehicles, the gas mileage, the ease of maintenance, and the customer reviews.
Negotiating Tips
Choosing to buy a used car could save you thousands of dollars, but you need to do your research. Look around online and decide on the type of car you want to buy. Are you looking for a small sedan to use as a daily commuter or do you need a larger vehicle to transport the kids to all of their activities? Once you find the vehicle you want look for the true market value. When you approach the dealership to buy a used car you will have valuable and reliable information to use during negotiations.
Once you have found the perfect car that gets great gas mileage don't allow the salesperson to see your enthusiasm. If you are shopping for your teenage drivers leave them at home. Look through the lot when the dealership is closed and allow your teenager to find the perfect car. Then go back and negotiate the deal on your own -- if the salesperson doesn't want to work with you walk away. If you still love the car and can't find a better price call the dealership on the last day of the month or during a weekend of bad weather. Often the salesperson needs to make sale and will be more willing to work on price with you.
Maintaining a used car can also be a huge expense. When you are shopping for a used car make sure you take into consideration the money you will spend on up keep when you are negotiating the price. You may consider paying a little more up front if the dealership will include a used car warranty or offer discounted oil changes. As you are negotiating the price ask the salesperson for what you want and what you expect. If the dealership can't meet your expectations walk away and let the salesperson know you will be back when a good deal can be reached.
Finally read through customer reviews for the used car you want to purchase. Some people may love the car and some people may have mixed reactions. The more information you have about the car the better prepared you will be to negotiate a fair price. Just remember the dealership is not going to give away the car and you need to be realistic about the price. If you are always polite, show up with your folder filled with research about the car, and stand your ground when speaking with the salesperson, you can get a great deal on your perfect used car.