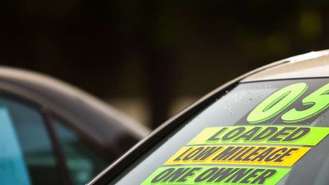 Unlike new car prices, which are generally set by the manufacturer, only fluctuate in special circumstances, and at the dealer's discretion, used car prices can differ dramatically. It's not uncommon to see cars of comparable quality and model type go for hundreds or even thousands of dollars in difference as far as overall price. In order to be sure that you're getting the best deal possible on your used car prices online, learn how to negotiate properly.
Estimate the Value of the Car
The first thing that you'll need to do once you've accurately chosen a vehicle that you plan to purchase online is to estimate the actual value of that car. There are a few ways to do this. First, you should research that car according to its make, model and quality, as well as the year in which it was made. Look for Kelley Blue Book values with comparable cars to see what the national average prices are. Do further research in your area to be sure that the prices are comparable as well. If it's cheaper to buy the same vehicle nearby, consider doing that instead. Having a good estimate of the value of the car will help you to better be able to negotiate as you'd like.
Determine Your Options
Depending upon who you are working with to negotiate for the car, you may have some other options as well as just paying for the vehicle outright. For instance, you might be able to shave off some of the cost of the vehicle by offering to trade in an existing vehicle that you have. You might also be able to opt for lower level luxury add-ons, which can then lower the price. Compared to vehicles with more elaborate or expensive add-ons. Factor all of these potential cost reduction techniques into your strategy as you go into negotiations.
Make an Offer
Begin by making an offer for the vehicle. There are different schools of thought on how to set up your initial offer. Compare it with the price that the owner is asking for the vehicle, as well as the value of the car as you estimate it. Do not offer an amount of money that is so low that the other bargainer might find it to be insulting. Rather, pick your ideal, yet reasonable price for the car, and drop below that slightly. The other bargainer will likely offer a counter of some type. You may continue to barter until you reach an agreement on the price that seems right for both of you. However, if it seems too high, don't be afraid to walk away and look for another deal instead.
Which is the Most Reliable Used Car Price Guide?
The best used car prices guide would have to be the Kelley Blue Book. The blue book price is commonly used by buyers and sellers around the world. The site is great for new cars as well as used cars, but it is primarily used for buyers and sellers of used cars. You can find a car value for your used car within minutes by using their free price guide. The site is very user friendly, and you can pretty much just follow along the site in order to get the price you desire. You can search their site in a variety of ways.
For example, if you are looking for a value of your own used car that you are looking to sell, you can search by the exact make and model of your car. Then you can select the feature of your specific car, and it will give you a private party price. Conversely, you can be looking to buy a used car from a dealer or a private seller. The process would be the same, but you may also see a price that you could expect a dealer to charge you. The dealer price will be higher than the private seller value due to dealer costs such as overhead.
Lastly, if you are looking for general prices, you can search by a style of car, such as sedan, convertible, truck, etc. You can then type in general terms and it will attempt to refine your search to find a car that you want, and in your price range.