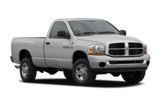 Dodge pickup trucks are some of the most popular pickup trucks in America, and if you're considering purchasing one - you should know what average used Dodge truck pricing is for popular models being sold at many used truck dealerships and by private party sellers these days. Of course, the price you pay for a used Dodge truck (or any other pickup for that matter) will depend upon many variables. The pricing information below will give you a good idea of how much other people are paying for similar used Dodge trucks, listed by pickup year and model.
*Note – All prices shown below are for a base model truck that has 2 wheel drive, regular cab, manual transmission (unless only available with an automatic transmission), short bed and base standard trim level. Air conditioning is not included unless it is part of the base model package (but it is not in most cases). Also, no premium stereos systems, premium wheels or other high end accessories are included in the prices of the Dodge trucks listed below.
The average prices shown below are based on pricing data from the Southeastern United States. The Southeastern United States has the largest part number of pickup truck sales in the country, and therefore, offers the most exhaustive pricing data. The Dodge truck prices below include Manufacturer's Suggested Retail Pricing (MSRP) for the 2010 model year (or the 2009 model year if 2010 pricing information is not yet available), and the average pricing information for model years 2006, 2007 and 2008. The prices listed below have been taken from the Kelley Blue Book Pricing Guide website. For suggested retail prices the Dodge truck is considered to be in excellent condition, and for the purposes of determining Private Party selling prices and average trade-in values, the condition is considered as good. In order to make pricing data more accurate, mileage on year model vehicles is as follows: 2008 – 24,000 miles, 2007 - 36,000 miles and 2006 – 48,000 miles.

Dodge Dakota
Dodge Dakota Extended Cab 2-door ST Pickup (V6 Engine 3.7 Liters, 2 Wheel Drive, 15 MPG City & 20 MPG Highway, Automatic Transmission)
2010 Manufacturers Suggested Retail Price - $23,495
Model Year Suggested Retail Price Average Private Party Price Average Trade in Value
2008 $16,940 $13,790 $11,925
2007 $14,725 $11,775 $9,900
2006 $13,665 $10,665 $8,750

Dodge Ram 1500
Dodge Ram 1500 Regular Cab 2-door ST Pickup (Automatic Transmission, 3.7 Liter V6 Engine 2 Wheel Drive)
2010 Model year Manufacturer's Suggested Retail Price $21,510
Model Year Suggested Retail Price Average Private Party Price Average Trade in Value
2008 $15,010 $11,910 $10,200
2007 $12,550 $9,650 $7,975
2006 $11,500 $8,625 $6,875
The above used Dodge truck pricing is presented for guideline purposes only and cannot be considered accurate in all cases. The actual price you pay for any used Dodge truck will depend upon what type of condition the truck is in, the number of miles on the odometer and other factors such as a negotiated selling price. While this pricing information may differ from the actual price you may pay for a similar used Dodge truck, it will give you a rough estimate of what you should expect to pay and what others around the country are paying for these types of vehicles.