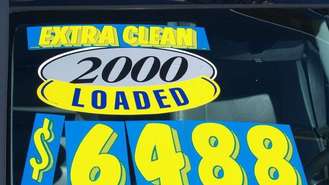 Car shoppers who are looking for the lowest used car prices in private or public sale situations can think about some of the big differences between purchasing on a dealer's lot or used car classified ads to secure a deal from an individual seller. Dealer lot sales and private sales are two very different types of used car transactions. Knowing more about how they differ will help buyers with a budget to make decisions about where they will go to get their next vehicle for the best used car prices available.
Dealer's Lot and Private Party Sales: Classes of Used Auto Transactions
The vast difference between dealer's lot prices and private prices is reflected in common car pricing tools like the Kelley Blue Book web site. On the Kelley site, users enter particular information about a car to get an accurate assessment of its current value. A brief look at the site will reveal that Kelley offers multiple sale price estimates. One of these is a "dealer's suggested price" and another is a "private party value". These two prices differ so much because of how used car dealerships generally work.
Dealer Services
One of the main reasons that dealer lot values are higher for used cars is because of the process figured into offering up one of the vehicles for sale. Dealerships typically involve themselves in detailed inspections of incoming cars, and even refurbish them by changing out problematic parts before putting them on the lot. Customers of honest dealerships know they are getting cars that have been approved for sale by the lot owners and technicians. They get no such assurance from a private party sale, where someone with the title for a vehicle is simply looking to get rid of it by any means.
Dealers also offer limited warranties for many used vehicles, which adds to the value for a deal and increases auto dealer pricing.
Financing
Another reason why newer pre-owned vehicles may be more expensive at the dealer's lot has to do with how the customer pays for them.
Auto financing is hugely popular in today's used car world. It's increasingly common for individuals and households to buy cars they can't fully purchase with cash on hand. As a result, individual used car dealers have become effective lending agents who help broker deals between an individual shopper and a large bank or other financial firm. Some dealerships provide their own loans from an available pool of cash, but according to some auto experts, this is less common than the dealership acting as a facilitating third party for an auto loan.
Dealer Markup
Some customers have issues buying and financing cars through dealerships. Customers accuse dealers of "padding" the financing agreement in order to extract additional money from it. This is often called dealer reserve or dealer markup. Many consumer advocates see this process as dishonest, simply because the higher sale cost of the vehicle should satisfy all of the dealership's cost and profit margin. Many feel that the dealership should not make additional money off a financing agreement unless it is the actual lender.
How to Get the Car You Want, Cheap
A general strategy for buyers who want the cheapest cars is to buy from a private seller, with cash. Those who are knowledgeable about cars can inspect sale offers themselves, offer bottom dollar, and press the private seller for a sale below the original requested value. This is one way to drive away in the car you want for less.
Think about all of the above when you are selecting dealer's lot or private sale offers for a used vehicle.