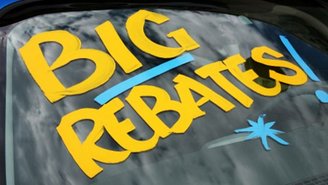 Taking advantage of used car rebates can save you thousands of dollars on the purchase of your new used car. In the economy of 2009, this can be a crucial factor for many families. Finding the right deal for you may take some research and some time but the savings will be worth the effort.
Tip #1 – Research for the Best Deal
If you need a car right away the best thing you can do is to find out what the best car rebates currently are. From there you can narrow down your favorite or the most economical. There are several ways to find the best deal.
Check out your local car lots and dealerships either online or in person. Go to CarsDirect.com for information on current rebates available.
Tip #2 – Research the Best Used Car
If you have the luxury of waiting to purchase your car until you find the perfect deal for you and your family, start researching now. Go to Kelley Blue Book to research what the best used cars are on the market right now. The Kelly Blue Book website will list the top 10 used cars, which can help you narrow down your search. You can also check out Office of Defects Investigation to make sure the car you are looking at has no recalls or defects.
Tip #3 – Understand Auto Rebates
It's pointless to try to research the best car rebates if you don't understand what an auto rebate even is. Essentially, used car rebates are incentives to sell cars. Car manufacturers may be trying to clear their inventory to make way for new, incoming models. They may also just want to clear the dealership lots of vehicles that initially did not sell well. There are various reasons for rebates. The bottom line is to make sure that the rebate will benefit you and your family.
Tip #4 – Get Pre-approved for Loan
Go to the car dealership when you are ready to purchase and avoid the numbers game. When you go to shop for a used car, make sure you are pre-approved for car loans through your bank or credit union or online at www.instantcarloan.com. This way you can take full advantage of the rebate and incentive program without spending a lot of time on negotiation. You can check your credit first to see if you will even qualify for a car loan at www.ftc.gov/freereports.
Tip #5 – Think Green
One surefire auto rebate you can go for right now in 2009 is the rebate for hybrid cars. If you have been considering going green anyway, there is no better time. According to Kelley Blue Book the number one best used car to consider is the Honda Civic Hybrid as well as the original Honda Civic. What is better incentive than that?
No matter when you buy or what you decide to buy the best thing to do is arm yourself with information and know what rebates your chosen vehicle qualifies for before going to the dealership. This will save time and hassle and will get you what you want; a quality used car with a great rebate incentive for the lowest possible price.