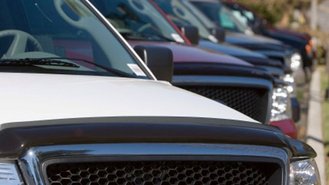 When shopping for a used truck, you should try to find the best used truck sales in order to get the lowest price. Finding the best prices on a used truck is not that difficult—if you are willing to do some research and know where to look. So, here is some information to help you find the best used truck sales.
Online Classified Ads Sites
Online classified sites like AutoTrader.com and Craigslist.com are a great place to find low prices on used trucks. In fact, both sites have hundreds of thousands of vehicles listed for sale and finding the used truck that meets your needs and budget is never very hard. AutoTrader.com is one of the largest used-car websites on the Internet and makes searching for used cars quick and easy. Craigslist.com—although not exclusively for the sale of cars and trucks—also offers thousands of used trucks for sale on the site.
The major difference between the two sites is that AutoTrader.com allows dealers to post used trucks for sale on their website in addition to private party sellers. Whereas, Craigslist.com is generally geared to allow private party sellers to list used trucks that they want to sale.
eBay Auctions
Bidding on a used truck at eBay auctions is a great way to purchase a used truck at an incredibly low price - if you are the winning bidder. In order to compete for used trucks, you will need to register for a free eBay.com account so that you can bid on auctions that offer used trucks that you're interested in. While you're never assured of success when bidding on a used truck, a successful auction bid could lead to you finding a used truck at a price you may not be able to find anywhere else.
CarsDirect.com
CarsDirect.com is perhaps one of the most comprehensive car and truck shopping websites on the Internet. The website has literally thousands upon thousands of used trucks for sale by reputable new and used truck dealerships from around the country. These CarsDirect VIP dealerships have agreed to post ads for trucks at rock-bottom prices, and the friendly 24-hour online staff makes finding the used truck of your choice easier than you would ever imagine. In addition, CarsDirect can also help you arrange easy financing for your used truck and even help with insurance. If you're looking for some of the best used truck sales, CarsDirect.com should be one of your very first stops.
Don't Forget Your Local Newspaper
Although the Internet does offer a lot of options for finding cheap prices on used trucks, you should never neglect thumbing through your local newspapers classified ad section. Not only may you find an individual willing to sell a used truck at a good price, many local new and used truck dealerships often place ads for older inventory trucks that they need to sell quickly and are willing to make a deal on. So, make sure you use all of the methods included here to make sure you cover all your bases and find the best sale price on a used truck.