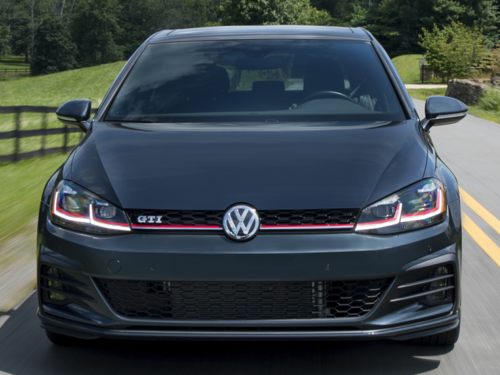 2021 Volkswagen GTI Prices and Deals
2021 GTI is here
The 2021 GTI is arriving as a carryover of the 2020 model. While the GTI used to be somewhat of a halo car for the brand, its popularity has diminished, and the car can be hard to find in stock compared to crossovers like the Tiguan.
VW confirmed that the GTI and its higher-performance big brother, the Golf R, will be redesigned this fall for the 2022 model year. At the same time, the brand has discontinued the regular Golf, and 2021 will be that model's final year in the U.S.
The offers listed below are regional and expire August 2, 2021. Our examples are based on those for Western States like California, Utah, and others. We don't expect to see any improvement to these offers for the 4th of July holiday.
This page is updated monthly with the latest incentives, so be sure to check back for the most current information.
Leases: From $339 per month for 39 months
Lease a 2021 GTI S 2.0T with manual transmission from $339 per month for 39 months with $3,499 due at signing (previously $329 per month for 39 months with $2,999 due at signing). Unfortunately, an effective cost of $429/month is a lousy deal for a car with this MSRP. For perspective, that's more than a $30,000 Atlas Cross Sport ($389).
Like most VW leases, the deal is based on an allowance of 10,000 miles a year. You can talk to your dealer about other mileage options, just understand that could affect your final price.
Rebates: Special offers for military, first responders, and new college grads
A $500 bonus is available for qualified military, veterans and first responders, and new college graduates (i.e. graduated in the past 24 months) with proof of permanent, full-time income are eligible to receive a $500 credit on new financing or lease contracts signed with Volkswagen Credit.
Financing: From 0% APR for 36 months
Promotional finance rates for 2021 GTIs start at 0% APR for 36 months, 0.9% APR for 48 months, or 1.9% APR for 60 months (as compared to last month's offer of 0% APR for 60 months or 1.9% APR for 72 months, or last year's stellar deals involving zero-interest financing for 72 months).
Advertised Lease Deals
Deal Valid in:
CA, AZ, NV, OR, AK
This ranks as an excellent deal based on our expert analysis of: vehicle price, length of lease term, amount due at signing, monthly payment, etc.
CarsDirect Target Price
Prices vary by style
CarsDirect
Pricing as of 7/30/21 in 20149
Financing Incentives
Rebate
Amount
Promotional APR Offer

Promotional APR programs available for qualified buyers. Please check with your CarsDirect Trusted Dealer for complete details.%NotesManuf% %Eligibility% Residents residing in qualifying regions of the United States. O.A.C. %Qualification% Special rates listed reflect A-Tier rates. B-Tier add 1.25% C-Tier add 3.75% D-Tier add 8.75%

Term(s)

12 - 36

37 - 48

49 - 60

Eligibility

Residents residing in qualifying regions of the United States. O.A.C.
Leases For Similar Cars
Based on 2021 Volkswagen GTI 2.0T S 4dr Hatchback - MSRP $30,490
Insider Information
We have information you must know before you buy the GTI. We want to send it to you, along with other pricing insights.
I agree to receive emails from CarsDirect. I understand that I can unsubscribe at any time.
We will not spam you, and will never sell your email. Privacy Policy.
Thank you. You are now subscribed to our Pricing Insider updates.