Model Preview
For the 2024 model year, Volvo is expanding the C40 Recharge lineup with a new rear-wheel-drive model. The new trim will come with a single electric motor on the rear wheels and a new 82-kWh battery pack. This configuration is now the best one when it comes to total range. Volvo has also updated the dual-motor model to improve range.
On the outside, the 2024 Volvo C40 Recharge is expected to retain the same exterior design as the current model on sale. The C40 and XC40 Recharge share similar designs, though the C40 features a sportier look with a more heavily raked roofline. The front end of the SUV features T-shaped daytime running lights, an oval-shaped grille, and a wide front air intake. The C40's sloping roofline, rear spoiler, and S-shaped taillights that start at the top of the roofline give the SUV its unique look over the XC40 Recharge.
The interior design of the C40 Recharge isn't expected to change for 2024. The current electric SUV features a harmonious design to Volvo's other SUVs. The SUV features a simple interior design with a central touchscreen that's integrated into the middle of the dash, vertical air vents, and a slim line of physical controls at the bottom of the center console. When the C40 first went on sale, it was the first Volvo to be completely leather-free, which we expect will go unchanged for the new model year. On the inside, the C40 comes with eco-friendly interior materials. With the rear seats folded, the C40 has up to 49 cubic feet of total cargo space.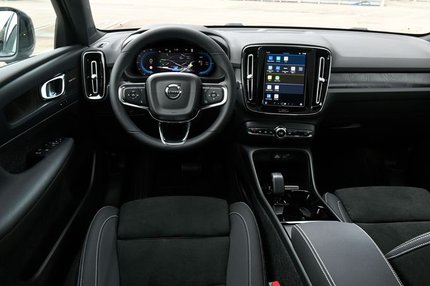 Volvo fits the current C40 with a nine-inch touchscreen and a 12.3-inch digital instrument cluster. The electric SUV is running a Google-based operating system that's meant to mimic a smartphone. Standard features on the SUV include Apple CarPlay, Android Auto, satellite radio, Bluetooth, and eight audio speakers. We don't expect to see any changes to the C40's list of tech features for 2024.
For 2024, the C40 is available in a new RWD model with a single electric motor. The single-motor C40 has a 248-horsepower electric motor on the rear wheels and an 82-kWh battery pack. This model has a range of up to 297 miles. This RWD model can charge at a rate of up to 200 kW, which allows the SUV to go from 10% to 80% in 28 minutes. Dual-motor C40s have two electric motors that make up to 402 hp. For 2024, the rear motor in dual-motor models has been updated to make 255 hp and the front motor is asynchronous and can disconnect for added efficiency when it's not needed. AWD C40s come with a 78-kWh battery pack that's good for up to 257 miles.
Pricing & Release Date