Volvo introduced the XC40 in 2019, the smallest of three crossovers. Since its introduction, it has undergone light changes. An all-electric T8 Recharge model was introduced in 2021. New headlights and a few additional safety features round out the most recent changes.
The Volvo XC40 is a subcompact crossover utility vehicle with standard front-wheel drive and available all-wheel drive. This model roughly parallels Volvo's other models with its signature grille honed-in by Thor's hammer headlamps. Its tidy dimensions include a high beltline that kicks up at the rear and pronounced body sculpting. Huge taillamps bring up the rear.
Inside, the XC40 supplies room for five, but is ideal for four. The cabin is clean and orderly, even comparably staid for a luxury brand. That said, the fit and finish is excellent and Volvo's understanding of ergonomics is apparent in the way the switchgear and screen are positioned. The front seats are roomy, very supportive, and comfortable. The rear seat offers surprisingly decent space for two with a bench seat that sits high enough for reasonable support. Cargo space, though, measures just 21 cubic feet behind the second row and 47 cubic feet behind the first row.
The XC40 comes with a 9-inch touch-screen display and an 8-speaker audio system. USB ports, Bluetooth, and Android Auto and Apple CarPlay smartphone compatibility are also included. Among the upgrades is a 13-speaker Harman Kardon audio system and navigation.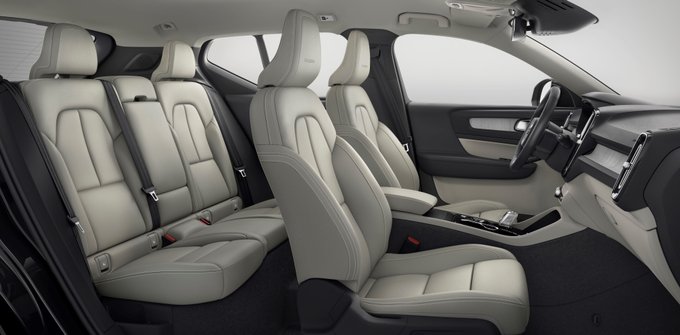 Volvo equips the XC40 with a 2.0-liter turbocharged four-cylinder engine. That engine makes 187 horsepower and 221 pound-feet of torque in the front-wheel-drive T4 edition and 248 horsepower and 258 pound-feet of torque in the all-wheel-drive T5 edition. Power travels to the wheels utilizing a clean-shifting 8-speed automatic transmission.
The T8 Recharge models come with a pair of 150-kilowatt electric motors, each one positioned over an axle to create all-wheel drive. A 78-kWh lithium-ion battery back supplies charge. Combined power reaches a robust 402 net horsepower and 486 pound-feet of torque, well above what anyone would expect with this model. This model has a 208-mile range.
As expected, Volvo includes a suite of standard driver-assist safety equipment. Specifically, every trim comes with automatic emergency braking, active blind-spot monitoring, oncoming mitigation by braking, oncoming lane mitigation, run-off road mitigation, and adaptive cruise control. The XC40 earned top scores from both the IIHS and the NHTSA.